CELEBRATING 100 YEARS OF WALDORF EDUCATION

THE FACTORY PHOTOGRAPH:
AN ARCHIVAL PRINT UNVEILS THE REALITY OF A WORLD-HISTORICAL MOMENT

Below this text is the original August, 1919 photograph of the entire workforce of the
Waldorf-Astoria Cigarette Factory in Stuttgart, Germany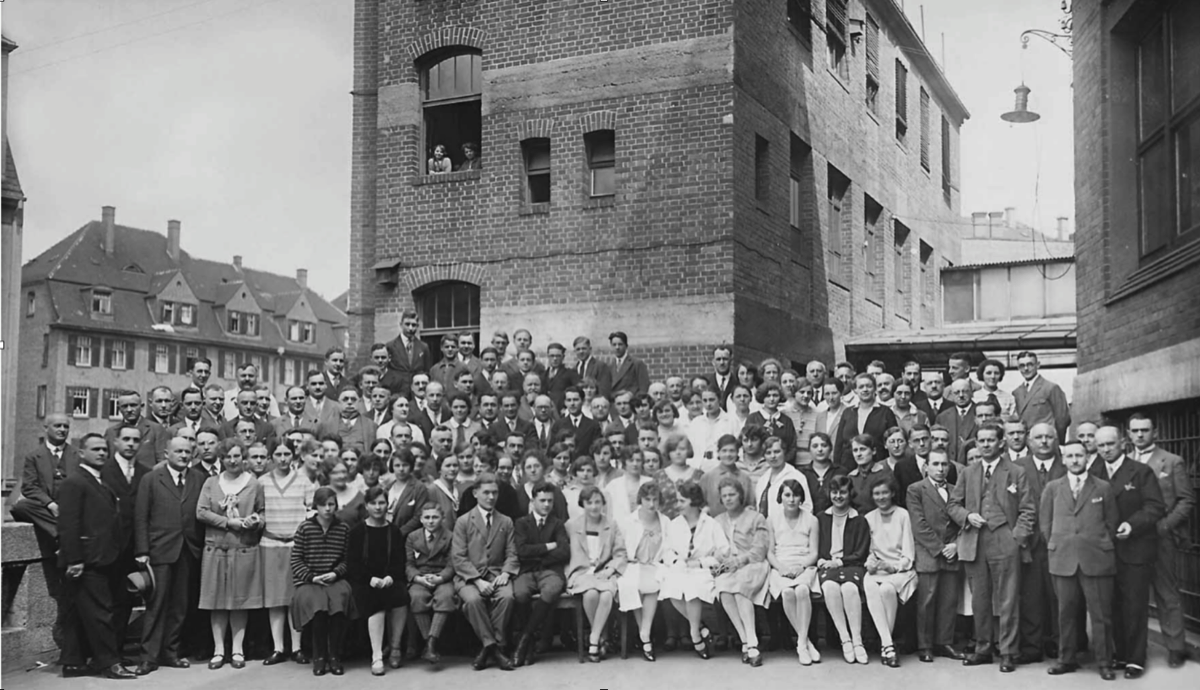 FACTORY PHOTOGRAPH VERSION 2

Below this text is the Version 2 photograph. Many of the workers portrayed in the original photograph were the ones who asked Emil Molt and Rudolf Steiner to create the school, but they were not alone. The workers' photo was taken just weeks before the first Waldorf school would be born. We tried to imagine the host of individualities — most human, some divine, many dead, some living, and some not yet incarnated — who gathered to eagerly help, support, and celebrate the school's founding. This photograph captures something of the vitality and joyous expectation that swirled that day on the factory grounds.
A GUIDE TO THE FIGURES IN THE FACTORY PHOTOGRAPH VERSION 2

For names and information about the Individualities present on that fateful day in 1919, hover your mouse (or tap with your finger) over the RED circled number. To simplify navigation through the crowded scene, the photo has been divided in three sections. Scroll down and you will have a chance to meet all of the nearly fifty visitors who may have appeared just weeks before the original Waldorf school was to welcome its first students.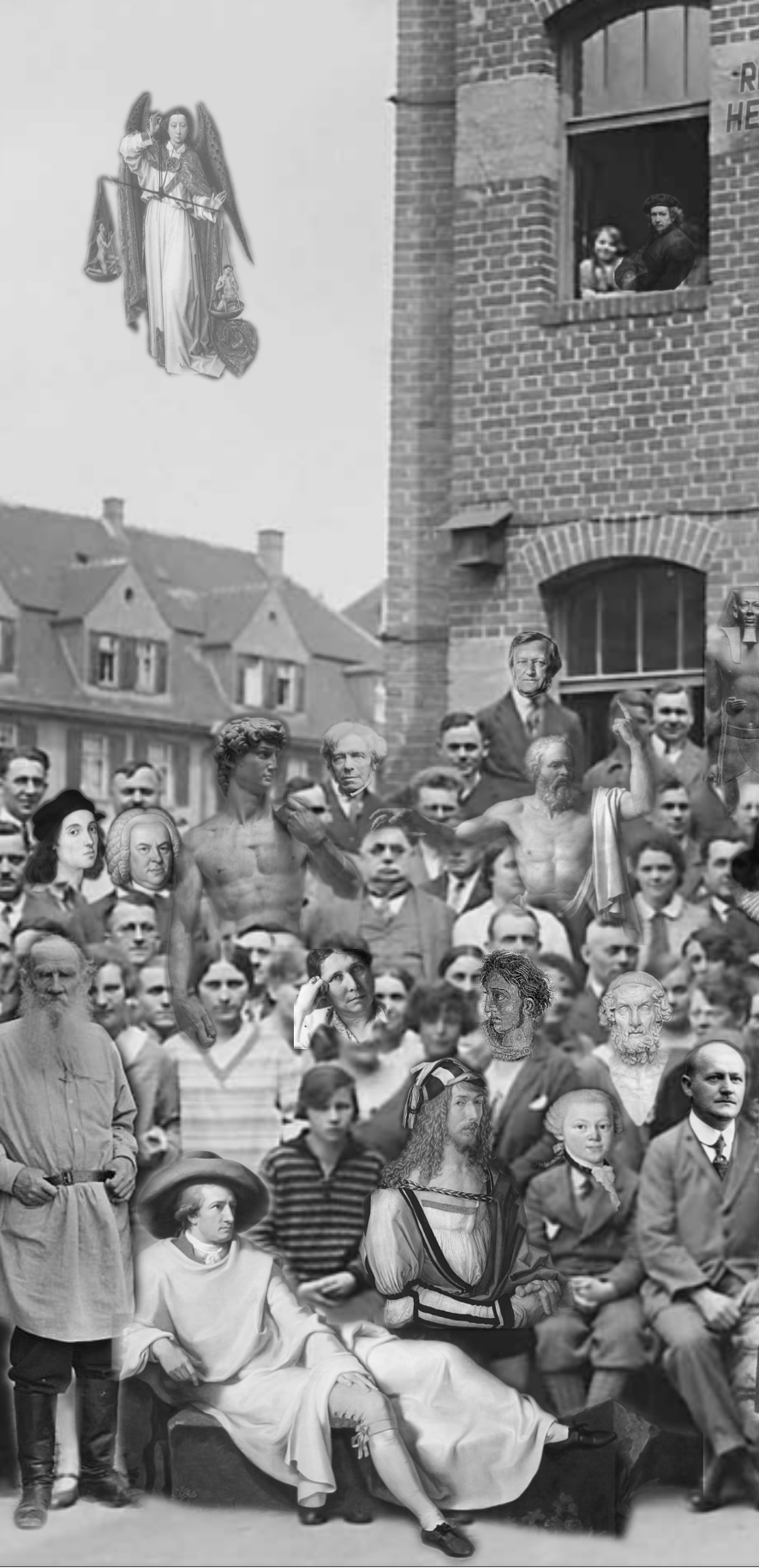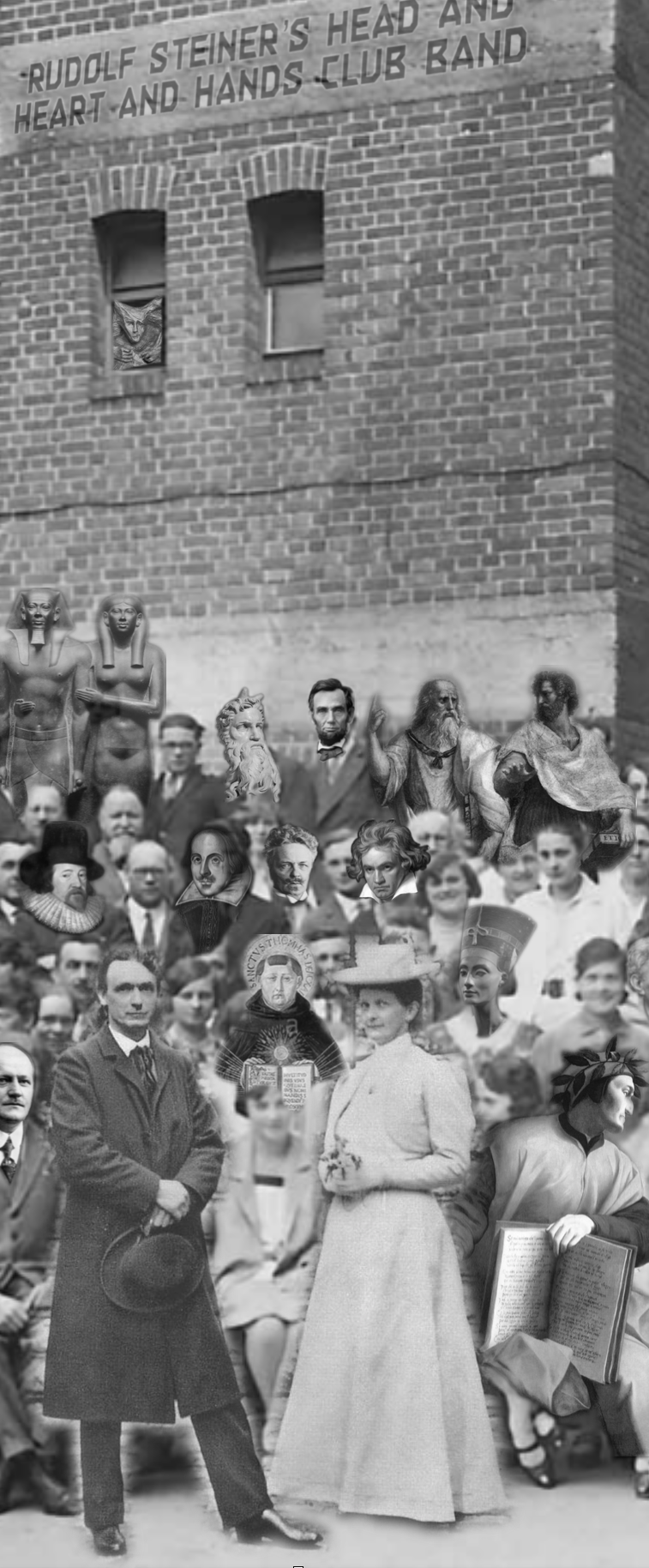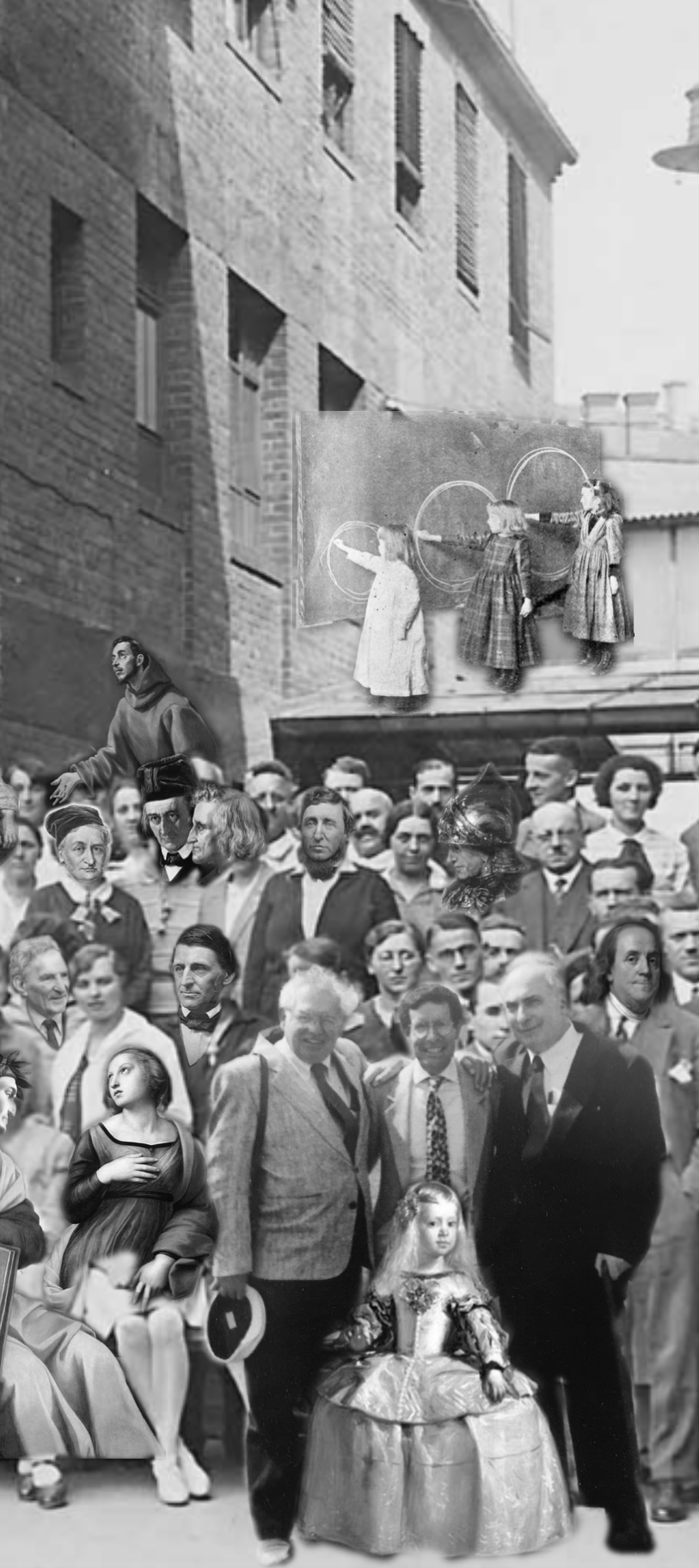 CELEBRATING 100 YEARS OF WALDORF EDUCATION

Even the large scale of the photograph did not permit the inclusion of hundreds of personages and Beings who deserve to appear. Among those from the Past are: Adam and Eve, Abraham, Joseph, St. Luke, St. Paul, St Odelia, St Christopher, Pythagoras, Thales, Julius Caesar, William Blake, Buddha, Cicero, Albertus Magnus, Brunetto Latini, Zarathustra, Gilgamesh and Ibani, Novalis, Schiller, Christian Morgenstern, Karl Koenig, A.C. Harwood, Margaret Froehlich, Henry Barnes, Roy Wilkinson, C.S. Lewis, J.R.R. Tolkien, and many, many others.
Our thanks to Paul McCartney, Jann Haworth, and Peter Blake, creators of the iconic album cover for the Beatles' inimitable
Sgt Pepper's Lonely Hearts Club Band
.
76 Grouse Hill Road
Barto, PA 19504
Among those from the Present who should take their place in this photographic Pantheon are: Patrick Wakeford-Evans, Ted Mahle, Roberto Trostli, Torin Finser, Karine Munk Finser, John Alexandra, Betty Staley, Douglas Gerwin, Arthur Auer, Norman Davidson, Clifford Monks, Arline Monks, Rainbow Rosenbloom, Brian Gray, Michael Heffernan, Jaimen McMillan, Bonnie River, Thom Schaefer, Donna Long, Prairie Adams, Anna Rainville, David Mitchell, Chip Romer, Allegra Allesandri, Susan Olson, Jamie York, George Hoffecker, and many others.